Five Years On; Atta Mills Still Live In Our Hearts. Here Are Five Profound Memories Of Atta Mills You Would Love.
From his soft-spokenness to his firm decisions and positions against corruption; Atta Mlls will remain in history books as one president Ghanaians loved and adored massively. In this article; we're going to share with you four profound and interesting memories from the late president.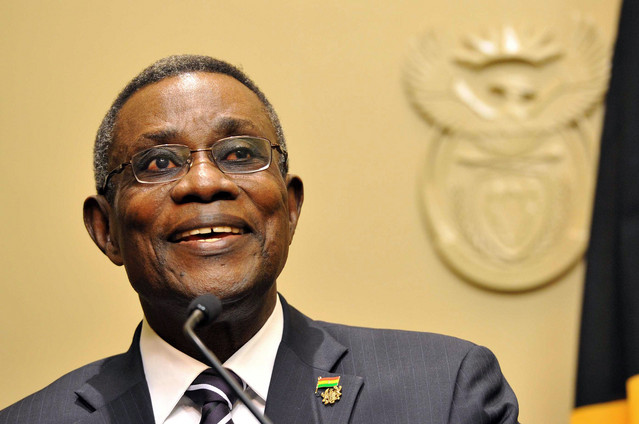 President John Evans Fiifi Atta Mills; was the third president of the fourh Ghanaian republic; he served from 2009 to 2012; when he met his demise. He was loved by may Ghanaians for his utter humility and respect for the ordinary Ghanaian citizen. Lets dive in the memories; shall we?
1. Swearing in ceremony of President John Evans Fiifi Atta Mills
Lets start from John Atta Mills's first day as president. On the 7th of January; 2009; he was sworn into office by Mrs. Georgina Wood; the then Chief Justice of Ghana. Atta mills gave a thoughtful speech about his appreciation t Ghanaians and how he (and his government ) was bent on steering Ghana to greatness through a consensus driven agenda. The swearing in ceremony was a very colorful event which attracted very influential personalities across Africa.
2. Atta Mills Blast Staff Of Tema Port
Earlier in this post; we talked about his firm stance against corruption. This second memory has more of that. Remember when he stormed the Tema Port to lash out at the corrupt CEPS officials. This was in relation to a video by investigative journalist Anas Aremeyaw. This was one of his statements
There are people who come here throwing their weight around; dropping names of so-called higher ups. I have General Mordey and I am telling you if anybody comes here with the president's name the first thing you should do is to arrest that person,
3. He boldly refused David Cameron's request of legalizing gay marriages in Ghana.
A lot Ghanaians loosely called him a timid person; as a result of his soft voice and subjectively slow ways of public speaking. In contrast to this assertion however; he was a smooth but firm implementer; and this in light of his 2011 encounter with the British Prime Minister on the acceptance of the same-sex marriage culture in Ghana. Atta Mills boldly refused to implement a gay culture even after Uk (one of Ghana's biggest donors) at at that time, threatened to cut-short all aids and investments directed to the Ghanaian economy.
4. The Obama-Atta Connection
There was a beautiful rappore between America's first ever black president (Barack Obama) and Prof.John Evans Fiifi Atta Mills which was entrenched by by friendly visits to each other's country. Obama and his entire family's visit to Ghana in 2009 was a spectacle which attracted eyes from all over the world. This event further became much more attractive as words from the Obama family about Ghanaian hospitality travelled all around the world; this had a trickle down improvement on tourism.
A reverse visit was also paid by Atta Mills to the White House during a bilateral meeting with President Barack Obama (U.S.A).
5. MUSIGHA (All Stars) tribute song to Atta Mills.
On a rather sad note; we would like to end this post with a tribute song to the deceased president. On the 24th of July; the whole of Ghana could not bear the news of the sudden death of her president. Atta mills died at the 37 military hospital after a short illness. In respect of his demise; the president of the Ghana Musicians Union of Ghana; Obuor; together with his colleague artistes (Blakk Rasta) composed a beautifully solemn tribute song in his honor.
Feel free to share your memories of Atta Mills with us on our social Media platforms.
Here is a video to the tribute song.
You can also download the song via this link
GH ALL STARS - Yedi Awereho